SIMPLE UX + ENTERTAINMENT
"Stamping", an ordinary practice to everyone
Digishot® makes it possible to "Stamp" on the screen of smartphone.
In addition to its user-friendly UX, it brings one-up entertaining essence into the field of digital stamp solution.
Feature
Reasons for selecting Digishot®
Usable on smartphone's mobile browser!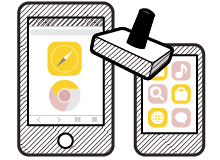 For adopting Digishot®, there is NO trouble-some work, like a Bluetooth setup.
*Able to work on native application, too.

Easy operation!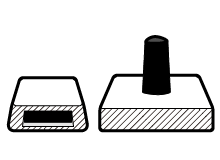 You just need one Digishot® stamp in order to introduce digital stamp solution to your business. A new POS system is not required at all.

No battery




Maintenance-free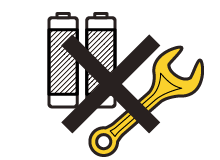 Digishot® Stamp itself requires no electricity nor electric components. It is relatively resistant to shock and dirt, enabling minimal maintenance for users.
*The plastic material of Digishot® Stamp complies with Japan and EU Toy safety regulations.

Stimulate a playful imagination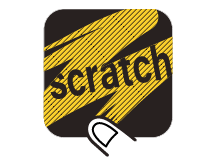 Digishot® changes digital stamping to entertaining experiences.
Digishot® enables you to introduce a variety of amusing effects to your digital stamp solutions which make users say, "Give me the digital stamp".

Application examples
By utilizing mobile communication networks used by smartphones,
a digital stamp can be well-served for various purposes.
E-coupon voiding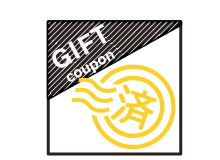 Just stamping on the screen of smartphone, a sales-staff is able to invalidate e-coupon at a shop. Digishot ® technology is adopted in the areas of e-gift and e-coupon/mobile coupon services.
Digital ticket redeeming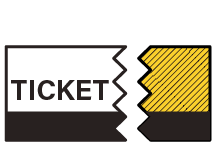 Digital ticketing services are widely used for the purpose to prevent counterfeit tickets. In the case of an event venue, staffs at gates stamp on digital tickets on visitors' smartphones, then Digishot® recognizes the validity of e-tickets immediately. This speedy and secure redemption of e-ticket is valued by our Digishot® users.

Electronic stamp rally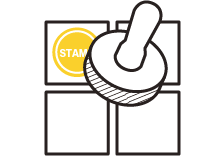 Neither paper cards, nor stamp pads are required for electronic stamp rally systems. By eliminating substantial costs to maintain paper card systems, like printing, additional investment to your service will become possible which, in turn, helps you to create positive spiral to increase customer satisfaction towards your service.
Entertainment Stamp
Stamp technology x Entertainment
"Entertainment Stamp" realizes
the concept of "Digital Stamp with full of fun" *1.
It is aiming to create entertaining digital stamp
which users are inclined to stamp on their smartphones over and over.
*1 Entertainment Stamp is Koto's unique patented technology.
Japanese Pat No. 5908158
Service Configuration
Line-ups of Digishot® Service
Digishot® as a Service

---
This service provides you with a ready-made Digishot® Stamp Server prepared by Koto.
By using http POST method, you are able to utilize the function to recognize when Digishot® is stamped.
Workable in any language environments of application server.

Digishot® Stamp
We offer suitable type of Digishot® Stamps from the product line-up
in order to support your entire business plan.
Digishot® Stamps are authentication devices equipped with tens of thousands of unique information patterns. Digishot® takes advantage of two basic factors: the physical property of human body that acts as a capacitor and the multi-touch technology which enables a surface of touchscreen to recognize the presence of more than one.
Digishot® presents users with new intuitive experience, "Stamps on your smartphone".

・Utilize capacitance of human body
・Need-to-have tool is just Digishot® Stamp
・Easy to handle at stores
・Maintenance-free. No battery replacement
・Shock-resistant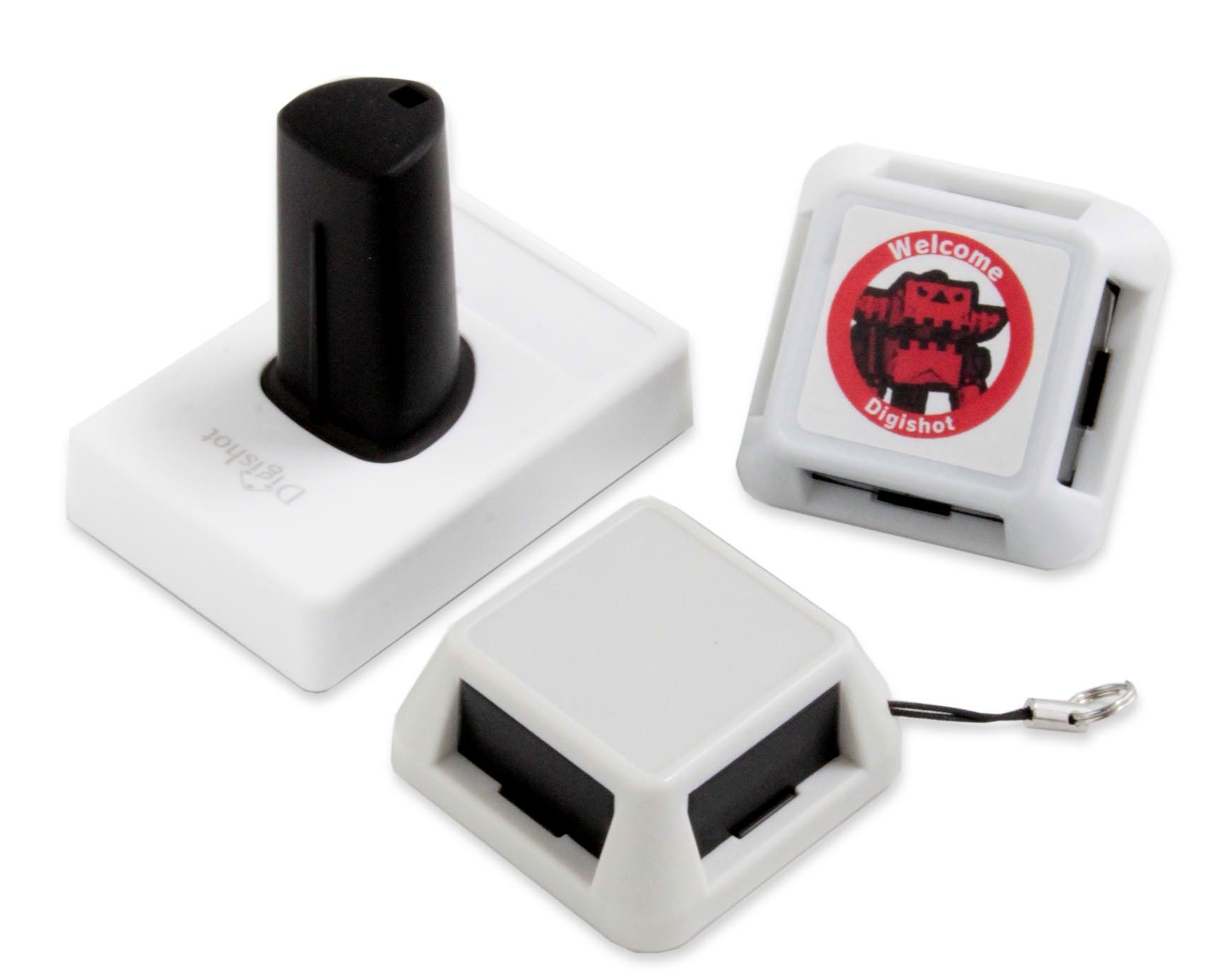 LICENSE
Digishot® service is offered as a license agreement base.
Upon the conclusion of the agreement, we will provide you with Digishot SDK consisting of Digishot® recognition engine and Digishot® stamps.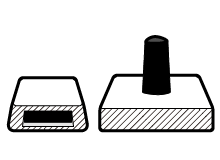 Digishot® Stamp
Digishot® Stamps use multi-touch technology adopted in smartphones. The stamps are equipped with up to 20,000 unique information patterns.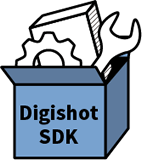 Digishot® SDK
Digishot® SDK includes the recognition engine which can detect approximately 20,000 unique codes assigned to each Digishot® Stamp.
Q:What is Digishot®?

Digishot® is the back end technology to realize "Stamps on your smartphone" based on a multi-touch system with capacitive touchscreen. By stamping Digishot® stamps made of plastic on smartphones, it is possible to display different illustrations or videos on the screen according to the independent code assigned to each stamp. Best for the service to provide mobile friendly contents through a digital stamp solution.

Q: How can I utilize Digishot® for our business?

In the case of "digital-stamp" usage, Digishot® suits for services such as digital stamp rally, digital loyalty card, digital ticket voiding and so on. As other application example, Digishot® is adopted by an edutainment toy for kids, due to its responsiveness of Stamp which can be wound or dragged on the screen of smartphones and tablets.

Q:What types of devices can work with Digishot®?

Digishot® supports smartphones and tablets which have 4 or more points multitouch capability.

Q:How soon can I start the service using Digishot® ?

Upon conclusion of license agreement, Digishot® SDK and Stamps will be provided according to the agreement. If you already operate services, like stamp rally, it is possible for you to incorporate a digital stamp system immediately into your existing services, by installing Digishot® recognition engine into native app/web server already in use. No significant changes to an existing system needed.

Q: Does Digishot® Stamp need a battery or electricity?

Digishot® Stamp , made of plastic, requires NO maintenance. Free from trouble-some work like replacing batteries or turning on/off a switch.

Q:I would like to know Digishsot® service line-up.

Just one type of service is available at this present.

"Digishot® as a Service": Use OUR ready-made server to access to Digishot® recognition engine.

Q: I would like to know the models of smartphones which can be used for Digishot® service.

Tests conducted on all iOS devices from iPhone 4S onwards. For android terminals, top-ranked popular models in Japan were used for the test.

Q: I would like to know application examples of Digishot® service.

Digishot® is adopted in a wide range of solutions. Examples are as below.

M-field., inc.:Digital Stamp Solutions "HITAP®"

JTB Corp.:Digital ticket service "PassMe!"

Q: Could I ask Koto to develop service using Digishot® for us?

We would like to start by hearing your detailed needs for Digishot®. Please feel free to contact us.

Q: I would like to know pricing for Digishot® license.

Upon hearing specific requirements from you, we will propose a suitable solution with estimate. Please feel free to contact us.

Q: I would like to know the specifications of Digishot®.

Please contact us for more details.
Any further information about Digishot ®, license, case studies and application examples which are NOT on this site,
please fill out below format and send to us by the "send" button.
Koto Co., Ltd.
153 Nagahama-cho, Oike-Sagaru, Koromonotana-Dori,Nakagyo-ku, Kyoto,
604-8201, Japan